10/31/2021 The Dangers of PGR Weed, by George Anon, International Highlife
The acronym "PGR" stands for "Plant Growth Regulators." PGRs are plant hormones that can control various aspects of development, including the shape and size of roots, stems, and leaves. You could think of PGRs as plant steroids. Well-meaning growers may unwittingly use PGRs because they're included as ingredients in hydroponics products. The three most commonly used PGRs for cannabis are daminozide, paclobutrazol, and chlormequat chloride. Chlormequat chloride often shows up in agricultural products under the trade names E-Pro, Citadel, and Cycocel. Other PGRs you may encounter include ancymidol, ethephon, flurprimidol, and uniconazole.
Americans are overwhelmingly in support of legalized pot. According to Pew Research polling, 60% of Americans are for medical and recreational use, 31% are for ONLY medicinal use, and a teeny tiny 9% of Americans think that it should be totally illegal.


That's it! 9%
As P2P meth spread nationwide, an unprecedented event took place in American drug use: Opioid addicts began to shift, en masse, to meth. Meth overdoses have risen rapidly in recent years, but they are much less common than opioid ODs—you don't typically overdose and die on meth; you decay. By 2019, in the course of my reporting, I was routinely coming into contact with people in Kentucky, Ohio, Indiana, Tennessee, and West Virginia who were using Suboxone to control their opiate cravings from long-standing addiction to pain pills and heroin, while using methamphetamine to get high. Massive supplies of cheap P2P meth had created demand for a stimulant out of a market for a depressant. In the process, traffickers forged a new population of mentally ill Americans.

P2P-meth use was quickly causing steep deterioration in mental health. The symptoms were always similar: violent paranoia, hallucinations, conspiracy theories, isolation, massive memory loss, jumbled speech. Methamphetamine is a neurotoxin—it damages the brain no matter how it is derived. But P2P meth seems to create a higher order of cerebral catastrophe.

"I don't know that I would even call it meth anymore," Ken Vick, the director of a drug-treatment center in Kansas City, Missouri, told me.

Sam Quinones is a Los Angeles–based journalist and the author of four books of narrative nonfiction, including his latest, The Least of Us: True Tales of America and Hope in the Time of Fentanyl and Meth.
Pedro's Grow Room is probably one of many similar Twitch streams. Now you know.
Amazon said it has "reinstated the employment eligibility" for former workers or applicants who were fired or deferred during marijuana screenings. Amazon ended pre-employment marijuana screenings for most job applicants in June. The company is also lobbying the federal government to legalize marijuana.

Amazon will still do impairment checks on the job and will test for drugs and alcohol after any incident.
Delix aims to create psychedelic-inspired compounds that heal without hallucinations. The idea is based on the work of David E. Olson, a neuroscientist and medicinal chemist at the University of California, Davis. In 2018, his lab published a study in animals showing that multiple kinds of psychedelics promote synaptogenesis, the formation of synapses that allow brain cells to communicate with each other.

To Olson, that study helped explain why taking psychedelics just once can sometimes produce long-lasting effects on behavior. The study also led him to conclude that his lab could design compounds that promote synaptogenesis without causing hallucinations.

Rus adds that Delix's drugs, although designed to encourage synaptogenesis in neuropsychiatric diseases, could also potentially mitigate, and maybe even reverse, the loss of brain-cell connections often seen in neurodegenerative diseases like Alzheimer's. That research is likely years away from clinical testing.
In 2018, California enacted a law requiring prosecutors in every county to review state Department of Justice data on convictions and to take steps to dismiss them. The law gave prosecutors a July 1, 2020, deadline. Los Angeles County Dist. Atty. George Gascón, a co-author of Proposition 64, has been at the head of the pack. On Monday, he made a stunning and welcome announcement: In addition to the approximately 66,000 Los Angeles County residents whose convictions were dismissed last year, another 58,000 who had been identified through an examination of county court records, would be forgiven. All records in the cases will be sealed.
9/27/2021 Whitmore Lake Opens its first Pot Shop
Officials identified about 58,000 cases that are eligible for dismissal, Los Angeles County District Attorney George Gascón said. The cases go back three decades. Last year, Jackie Lacey, then the district attorney, dismissed 66,000 convictions related to pot.

New York began automatically expunging criminal records of people with certain marijuana convictions after recreational marijuana was legalized this year. A 2019 law decriminalized possession and led to records' being expunged.
The California State Fair will add a "cannabis cultivation" category to its annual competitions beginning next year.
BY EMILY MICHOT and MARTA OLIVER CRAVIOTTO, SunHerald, 9/23/2021
For the Black farmers in Florida, many questions remain. A potential Black-owned cannabis business would start its operations at least five years behind the first Florida dispensaries. How would that business catch up? Much of the urban retail space available for dispensaries has already been plucked up by Florida's early operators, some of which now number among the largest cannabis companies in the world.
Phony straw man operations—so-called "burner" distributors—will purchase cannabis from a legitimate grower. They'll pay state cultivation taxes, but not the required state excise taxes. They'll then turn around and sell the "legal" cannabis on the illicit market, either within the state at prices "far lower" than legal dispensaries can afford to match, or exported out of state, according to the suit.

According to a lawsuit brought by Catalyst Cannabis Co. CEO Elliot Lewis, California regulators are satisfied with the cultivation taxes and will not pursue action against the "burner distros" who "conceal and launder State-grown cannabis… for delivery to unregulated markets,"
Troy, Mich.-based Lume Cannabis Co. announced last week that it had received state licensing for a retail dispensary on land held in trust for the Sault Ste. Marie Tribe of Chippewa Indians in Sault Ste. Marie, Mich., a small city in Michigan's Upper Peninsula. The project follows the opening this month of retail stores near Petoskey and in Mackinaw City on trust lands for the Little Traverse Bay Bands of Odawa Indians.

The Michigan law legalizing cannabis for adult use allows local municipalities to opt out of allowing marijuana-based businesses within their boundaries. However, by locating dispensaries on sovereign tribal lands, which do not fall under the purview of state and local laws, Lume has essentially found a workaround to the local restrictions.

To that end, the company's stores in Sault Ste. Marie, Mackinaw City and Bear Creek Township near Petoskey each are located in municipalities that have opted out.
Legislation unveiled Tuesday, Sept. 14, would reduce the number of patients allowed per caregiver from five to one, beginning March 21, 2022.

One of the biggest proponents for curtailing the current caregiver system is the Michigan Cannabis Manufacturers Association, which represents some of the industry's largest financial interests. They released a study in June that estimated nearly 2/3 of all marijuana sales in the state, nearly $3.2 billion worth, occurred outside of the licensed market.

"There is no good reason to create any further restriction or burdens on the current caregiver system," said Jamie Lowell, a legalization pioneer and the director of social responsibility and advocacy at the Botanical Company, a marijuana retailer based in Lansing. "There is no health or other issues warranting any prohibitive changes to caregivers.

" ... None of these amendments were a result of a reasonable process that sought input from important stakeholders. It seems as if it is common knowledge in Lansing that Steve Linder and the (Michigan Cannabis Manufacturers Association) are behind this."
The Grand Traverse Band of Ottawa and Chippewa Indians expects to work with the state of Michigan, but its operations will not be limited by local regulations. With a tribal business on trust land, the tribe is free to make its own decisions.
Using monthly statistical reports released by the state Marijuana Regulatory Agency, as well as the agency's online license search tool, MLive has pulled and compiled key data to show how the industry is growing and changing as it matures.
Rolison's Hardware is gone. Walled Lake CannaBiz tycoon Jerry Millen plans to convince the City of Brighton that a main street Headshop is in their future.

So what's the holdup?

According to reporter Jennifer Timar, Brighton officials are discussing CannaBiz ordinances. What's more, the city is hosting an October 2, day long public meeting about the possibilities.

Don't get too excited; it's a poster session. They're not handing out samples.
Last week the Pinkney Village Council voted to permit Howell entrepreneur "The Means Project" to convert the slowly rotting hulk of a once cherished product of federally funded elementary school construction into a Class-C indoor pot farm.

Granted in the same votes, a license allowing the processing of the pot into merchandise and a separate license permitting the operation on-site of a retail pot shop.

What's "The Means Project"? In two words - turgid branding. The CannaBiz landscape is littered with similarly unimpressive conceits.

n.b. Sara Kellner wrote the Livingston Daily report linked to above. She did not write this.
The Oxford, England–based firm will use the money to support an ongoing Phase 1b trial using psilocybin, which is found in mushrooms, to treat a rare condition called short-lasting unilateral neuralgiform headache attacks. Beckley also plans to test 5-MeO-DMT—a psychedelic found in plants and toads—as an intranasal spray for treatment-resistant depression.
Recreational cannabis use has by now been legalized in 18 U.S. states (plus D.C.), further cultivating the drug into the mainstream. As new figures from Gallup show, the share of adults who say they have tried marijuana at some point is now at 49 percent, the highest rate measured by the company to date. Back in 1969, only 4% said they had tried the drug, but, as noted by Gallup: "That surpassed 20 percent in 1977, 30 percent in 1985 and 40 percent in 2015."
When Michigan voters passed the ballot measure legalizing recreational marijuana with a 63% majority in November 2018, they earmarked at least $40 million in tax revenue for marijuana research grants intended to help reduce veteran suicides.

Almost four years later, the first half of that grant will finally be awarded.
This 2011 film investigates how and why meth use spiraled out of control and contributed to the drug abuse problem in America.
Caregivers, created by the 2008 voter-approved Medical Marijuana Act, are given mostly free reign to provide untested products to their patients. Their marijuana isn't tracked or tested. They pay no licensing fees and don't answer to the Marijuana Regulatory Agency.

Caregivers are the pioneers of legalized marijuana in the state, but find their role increasingly diminished as the licensed markets takes hold.

As of December 2019, when the first recreational shops opened, there were 268,566 registered medical marijuana patients and 36,392 registered caregivers. Those numbers had dipped to 252,330 and 30,670, respectively, as of June, according to state Marijuana Regulatory Agency statistical reports.
7/18/2021

The bills signed into law include:
House Bill 4517, sponsored by Rep. Yousef Rabhi, D-Ann Arbor;
House Bill 4740, sponsored by Rep. Pat Outman, R-Six Lakes;
House Bill 4741, sponsored by Rep. T.C. Clements, R-Temperance;
House Bill 4742, sponsored by Rep. Tenisha Yancey, D-Grosse Pointe;
House Bill 4743, sponsored by Rep. Julie Calley, R-Portland;
House Bill 4744, sponsored by Rep. Richard Steenland, D-Roseville;
House Bill 4746, sponsored by Rep. Roger Hauck, R-Mount Pleasant.
Correction: A prior version of this story misidentified the product being made with the spatula referenced in the Marijuana Regulatory Agency press release announcing the suspension. Representatives with MEDfarms said the product was an infused candy that was part of a taste test and not for public consumption.

Update: This story was revised July 13 to include additional statements provided by MEDfarms and its attorney.

The suspension comes after the state on July 8 announced the recall of 10,000 marijuana-infused chocolate edibles sold under the brand name Covert Cups.
A Fire Station, an Elementary School and now, a health clinic have been granted Pinkney's official imprimatur, the special use permits that enable their conversions from relics of Southeast Michigan's more populous, prosperous past into reefer fueled retail fever dreams. Another StonerTopia has been penciled in.
The recalled products include peanut butter cups, s'mores cups, banana cream cups and other varieties of marijuana-infused chocolate cups. To see the full list of products recalled at each dispensary, click here.

This isn't the first compliance issue for 3843 Euclid LLC. Its license was suspended for 14 days last summer after the state found employees were licking the pre-rolled joints to seal them closed with saliva, as its normal practice.
"Federal policies of the past 16 years have greatly undermined its reasoning," he said. "The federal government's current approach is a half-in, half-out regime that simultaneously tolerates and forbids local use of marijuana." The federal government's "willingness to look the other way on marijuana is more episodic that coherent," Thomas said.
One state after another is legalizing and cannabis companies are making healthy profits.
[Personal Note: On friday I attended the Immersive Van Gogh multimedia show in TCF Center (Cobo) Hall A, the Exhibit Hall adjacent to the CannaCon exhibition. The Cobo Lobby near the CannaCon exhibit entry doors absolutely reeked of reefer. Was it the show? Was it the attendees? Welcome to the Brave New Stench of StonerTopia.]

At CannaCon, Michigan Marijuana Regulatory Agency Director Andrew Brisbo spoke about how recreational sales surpassed medical sales sooner than expected, the befuddling continued growth of the industry, even during the pandemic shutdown when only curbside sales were allowed, he pointed out an anomaly in the rise of registered patients, a figure that usually declines when recreational markets proliferate, said the market is likely to surpass $1.4 billion in sales over the next year and announced that telemedicine approval for medical marijuana registration will likely continues if the governor, as is expected, signs laws recently passed by the Legislature.
The city of Flint, Michigan has agreed to sell its shuttered Flint Police Training Academy for $500,000 to a company that plans to convert it into a commercial marijuana grow facility.

Department of Planning and Development officials have said they were approached by Evergrow to buy the 4.4-acre parcel, listed the property for sale for seven days, and received two bids -- $500,000 from Evergrow and $20,000 from another group represented by Flint attorney Brenda Williams.
"We went to jail the most," says Mitzi Ruddock with the group Black Cannabis Access. "We paid the price, we've been impacted the most. Now we're not able to create generational wealth from it?"

A part of Detroit's adult-use marijuana ordinance sets up a process where marijuana business entrepreneurs can get "Detroit Legacy" status for one of the city's 75 licenses. Morning Edition host Doug Tribou talked with Michigan Radio Detroit reporter Sarah Cwiek about some of the issues at play in the lawsuit. Below is the interview, edited for length and clarity:

DOUG TRIBOU: So tell us about Detroit's adult use marijuana ordinance. What is the issue here?

SARAH CWIEK: The part of the ordinance that's in question here is something called the Detroit Legacy Status. Basically, it sets up a special category of people who have lived in Detroit for at least 10 out of the past 15 years or have some other additional considerations such as being low income or having a past marijuana conviction.

Being a legacy Detroiter gives you a lot of advantages in this process including first priority in the review process.

At least 50% of licenses in most of the 10 license categories must be awarded to certified Legacy Detroiters.


A 99% discount on licensing fees in 2021 and 75% discount on licensing fees in 2022.


A 75% discount on city-owned land.


Ability to apply for a one-year "provisional" license if the applicant does yet own a property
With New York becoming the sixteenth state to fully legalize the use of cannabis, and two more states - Virginia and New Mexico - set to join them later this year, legalizing recreational marijuana use finds favor with a majority of Americans. 55% say they would personally like the recreational use of marijuana to be legal in their state.

Nearly six in 10 think people who have been convicted of nonviolent marijuana offenses in states where marijuana is now legal should have those convictions removed. Just 37% think they should have those convictions stay on their criminal records.
"Krispy Kreme is giving away donuts [for those with proof of vaccination], the least the medical marijuana movement can do is take a stand up for science," Dana Beal, the 74-year-old organizer of Tuesday's "Joints for Jabs" giveaway told The Post Monday.

Tuesday's event, Beal said, is "our chance to say thank you Gov. [Andrew] Cuomo" — after the governor signed a bill into law last month legalizing the adult-use of recreational marijuana in New York.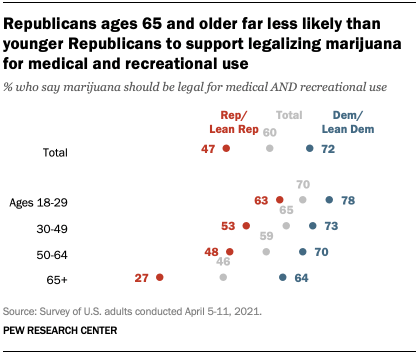 The study found that people who took psilocybin twice under the supervision of psychiatrists showed similar reductions in depression symptoms — based on scores on a survey — compared with people who took a six-week course of the antidepressant escitalopram. And those in the psilocybin group were more likely to report remission from depression symptoms, compared with those in the escitalopram group, according to the study, published Wednesday (April 14) in The New England Journal of Medicine.
The testers will not call the police. The drug users will not be thrown in jail. To tackle an endemic drug problem, New Zealand on Friday became what is believed to be the second country to formally legalize such drug checks, after the Netherlands. The European nation began a similar program in 1999 — though the practice is spreading around the globe.
Lake Superior State University in Sault Ste. Marie made history in 2019 when it was the nation's first to open a cannabis chemistry program. Now Steadfast Labs in Hazel Park, a cannabis-testing lab, is offering annual $1,200 scholarships for LSSU students in the program, which teaches students how to analyze cannabis-related compounds and contaminants.
This new cannabis business was founded by Howard Luckoff, the former general counsel for Dan Gilbert's Rock Ventures, which serves and connects Gilbert's portfolio of more than 100 companies. Luckoff also is the former head of the Honigman law firm's real estate department.

"It was almost like it was the end of Prohibition," Luckoff said, referring to a constitutional ban on the production and sale of alcoholic beverages in the U.S. that when repealed in 1933 led to a proliferation in sales of alcohol.

Luckoff and his team aim to get in early, not unlike some other white-collar professionals, said Sloane Barbour, chief revenue officer at FlowerHire, a cannabis staffing firm.
The measure includes:
40% of the revenue dedicated for communities impacted by prior drug laws, 40% to schools and public education and 20% to drug treatment and prevention programs.
Half of the licenses will be dedicated to equity applicants.
Ends penalties for the possession of less than 3 ounces of cannabis
Creates an office of cannabis management.
Allows New Yorkers to maintain three mature plants and three immature plants per adult for both medicinal patients and in the adult use program, with a limit of six mature and six immature plants per household.
As if prepared for the possibility of a legal challenge, Detroit's 48-page licensing ordinance passed unanimously by City Council in November states no license will be issued or renewed if any portion of the law is struck down or deemed unconstitutional.
With 17 operating retail marijuana shops, Ann Arbor is raking in nearly $500,000 in new tax revenue. And its neighbors will also reap the benefits of the city's liberal acceptance of the new market. Washtenaw County, which has 22 retail cannabis businesses -- the vast majority in Ann Arbor -- is set to receive the largest share in the state, $616,029.
A look inside some of Michigan's 240 retail marijuana establishments, where "Retail pricing dropped from 25%-40% between July and November."
2/28/2021 MORE Act 2021: Federal Decriminalization of Weed! What are the Odds? (Lawyer Take)

2/28/2021 January adult-use sales totalled $67,406,608.88, according to the latest monthly MRA report (page 45, not externally indexed.)
The MRA said it would consider taking license applicants from any applicant if it determined that more licenses were needed to reduce the illicit marijuana market, meet demand for marijuana, or "provide for reasonable access to marijuana in rural areas."
February 26, 2021 – The Marijuana Regulatory Agency (MRA) today issued a reminder that, beginning March 1, 2021, applicants are no longer required to hold an active medical marijuana license to be eligible for the following adult-use licenses: Marijuana Retailer, Marijuana Processor, Class B Marijuana Grower, Class C Marijuana Grower, and Marijuana Secure Transporter.

"Beginning Monday, business entry into the adult-use marijuana market will be more accessible for all Michiganders, as the requirement to hold a license on the medical side of the industry will be removed," said MRA Executive Director Andrew Brisbo.

The MRA released an advisory bulletin on November 13, 2020, with updated information regarding the application process for a state license under the Michigan Regulation and Taxation of Marihuana Act (MRTMA). On March 1, 2021, the eligibility restriction that requires an applicant to hold an active state operating license under the Medical Marihuana Facilities Licensing Act (MMFLA) to be eligible for numerous MRTMA state licenses will be removed. Further information explaining the reasons for removing this eligibility requirement can be found in the MRA Advisory Bulletin dated October 6, 2020, located here.

Applicants are advised that the applications, step-by-step instructions, and other educational resources that were previously available on the MRA website for adult-use establishments are going to be updated on Monday, March 1, 2021 to be consistent with this change in eligibility.

Effective March 1, 2021, applicants will need to refer to and utilize the updated applications and resources that will be posted on the MRA website. Previous versions of the applications will not be accepted. To ensure applications are processed as quickly and efficiently as possible, applicants are encouraged to submit applications through the online application portal, Accela Citizen Access (ACA).

ACA is also being updated to be consistent with this eligibility change and incorporate the changes to the paper applications. While the MRA will accept paper applications, it is highly recommended that applicants use the online application, which has been specifically designed to ensure the efficient receipt of all necessary applicant information.

Due to the number of changes that need to be made across the MRA website and within ACA, the public may experience brief interruptions to service while the MRA makes these changes. On March 1, 2021, the ACA online application portal and MRA website content regarding adult-use licensing will be updated. During these updates, please note that applicants and licensees may temporarily lose access to records they have submitted and/or have pending with the MRA during intermittent system updates.

Additionally, there will be a new renewal attestation placed on the website for renewal applicants under the MMFLA as well as a revised renewal attestation updated on the website for renewal applicants under the MRTMA. These confirmations of tax compliance attestations will require coordination with the Department of Treasury for completion.

The MRA appreciates your understanding and patience while the necessary system changes are made.

C. Cimone Casson, a Muskegon Heights woman who owns Cannas Capital, a marijuana and craft beer specialty insurance agency, helped create idea. She believes it will promote generational wealth in Black and impoverished communities while giving residents a chance to simultaneously invest in their neighbors' financial success and "buy back into their hood."
2/22/2021
Irvine Seeds Company
Wowza! Seeds cost what?!! 15 seeds for $100-$120.
Governor Phil Murphy came into office in 2018 after campaigning to legalize marijuana. But the idea faced a rocky path to fruition as the state's lawmakers debated whether and how to implement legalization. Ultimately, lawmakers put the issue in front of voters last November — and the ballot initiative won overwhelmingly, with 67 percent support. Even then, legalization efforts stalled as Murphy and legislators debated penalties for those under 21 years old. Only after New Jersey's legislature passed a bill that imposed civil penalties for those under 21 did Murphy finally sign the full suite of legalization legislation.

Nationwide, budtenders earn an average of $15 an hour, according to the "2020 Cannabis Industry Salary Guide" published by Vangst, a Denver-based cannabis staffing firm.

Of the companies surveyed, 90% offer some form of benefits package that often includes health insurance, paid time off, a 401(k) plan or equity in the business.

"Capital is back in the cannabis sector," Bill Doran, a partner in Benesch's Chicago office specializing in mergers and acquisitions, said last week.

Jazz Pharmaceuticals' $7.2-billion purchase of GW Pharmaceuticals last week is the biggest tie-up yet for the cannabis industry. The blockbuster deal dwarfs Tilray Inc. and Aphria Inc.'s $3.8-billion merger as well as Constellation Brands Inc.'s multibillion-dollar investment in Canopy Growth Corp.
The Trouble with Trumpers:
In pleading guilty to killing John McGuire in 2019, Anna Marie Choudhary says she was made to do so by her father and sister, who wed weeks later
A Killing Thrill: links on circling the drain of Amanita muscaria intoxication - or - why the f*ck would you risk this?
Last November, South Dakota became the first US state to simultaneously legalize medical and adult-use cannabis at the same time by way of a voter-approved ballot initiative. But rather than allowing the Mount Rushmore state to take its rightful place in history, Governor Kristi Noem is working to help local cops overturn the will of the state's voters.

On Election Day, 54 percent of voters approved Amendment A, an initiative that legalizes cannabis through an amendment to the state constitution. Shortly after this amendment was approved, state Highway Patrol Superintendent Col. Rick Miller and Pennington County Sheriff Kevin Thom filed a legal challenge arguing that it violated state rules against amending more than one subject at a time.

Other conservative states are also working to overturn cannabis reform measures approved by their voters last fall. Prohibitionists in Montana are also suing to have the courts strike down the state's new adult-use law, which was supported by 57 percent of voters. And in Mississippi, politicians are trying to strike down the state's new medical marijuana program.
For their new "Joints for Jabs" campaign, advocacy groups DC Marijuana Justice (DCMJ) and Maryland Marijuana Justice (MDMJ) are teaming up to hand out free bags of organic bud at coronavirus vaccination centers all across the city. DC officials just announced their plans to begin vaccinating adults over 65-years-old this Monday, but the free weed handouts will not begin until the city begins offering vaccinations to the general public.
Last week, Biden announced that he was nominating Rhode Island Governor Gina Raimondo for Secretary of Commerce. If confirmed by the Senate, the governor would take the reins of the US Department of Commerce, setting new policies to promote economic growth and creating federal business regulations. And, as an advocate of cannabis reform, Raimondo could well use this position to help loosen federal restrictions against state-legal weed businesses.

Last year, Gov. Raimondo joined governors from several neighboring states in a call to bring legal weed to the East Coast. After Massachusetts began selling legal pot in 2018, the governors of New York, New Jersey, Connecticut, and Rhode Island began discussing plans to coordinate their own states' legalization efforts. Conservative lawmakers managed to stamp out these legalization plans, but New Jersey voters were eventually able to legalize adult-use during the 2020 election.
There are 166 cannabis coffee shops in Amsterdam, accounting for almost 30% of the Netherlands' coffee shops.

To add to the slightly confusing setup, buying cannabis from a coffee shop is legal in the Netherlands, but producing cannabis remains illegal.
The Pinkney village Planning Commission voted on Monday night to recommend that the Pinkney Village Council conditionally rezone the Pinkney school. The M-36 adjacent property has been unused since 2012.

The land would have to be rezoned before developer Chris Bonk could apply for marijuana business licenses from the village. His plans: marijuana growing, processing and possible direct sales.
It's just nonstop terror, unfortunately. - Dr Tsion Firew
Pinckney voters ended a ban on recreational marijuana businesses in November. The village will be the first community in the county to allow marijuana establishments.
In Florida, two separate marijuana initiatives failed to get enough signatures to make the ballot in 2020. Instead, they aimed for 2022.

"Younger Republicans are already outflanking some [Democrats]," said Orlando attorney John Morgan, who spearheaded the successful medical marijuana initiative in 2016 but is staying out of the fight this time. "They use it regularly and prefer it to booze."

"Any person who runs for the Democratic nomination [for governor] and doesn't support full legalization should not run at all," Morgan said. "It is disqualifying."

Morgan, who personally backed the successful medical marijuana and $15 minimum wage amendments, has said he would be a cheerleader this time around and would back both petition campaigns.
How does an American end up in prison for life over $20 of weed? Louisiana state law features a three-strikes rule, a grossly misguided '90s era policy that imposes life sentences — without parole — on any repeat offender who receives three nonviolent felony convictions within a 12-year period.

In 2008, while Winslow was homeless, an undercover police officer approached him in a park. The officer asked Winslow if he could score $20 worth of weed. Winslow took the cash and later returned to the officer with two tiny bags of bud, leading to his immediate arrest for dealing drugs.

The thing is, Winslow wasn't actually a dealer in any legal sense. He simply acted as a middle-man, who told police he brokered the deal so he could make a $5 commission — offered by the undercover cop — to buy some food.
Prior to the change, Irish patients had to spend at least two days traveling to get their prescriptions filled in the Netherlands.

DeLisi Leaving Prison
DeLisi and his older brother, Ted DeLisi, were convicted in 1989 of trafficking in cannabis, conspiracy to traffic in cannabis and a violation of the Racketeer Influenced Corrupt Organization (RICO) Act. Judge Dennis Maloney sentenced both brothers to three consecutive 30-year sentences, well beyond the recommendations in judicial guidelines.
CALI, Colombia—Pablo Escobar once said that cocaine trafficking "might be illegal at the moment but in the long run, in the future, it will tend to be legalized."

The future predicted by the self-styled King of Coke might now be here. An explosive piece of legislation has been introduced into the Colombian Senate that would make Escobar's words prophetic, sanctioning cocaine for both local consumption and international research.

The plan would have huge ramifications for the U.S.-backed drug war in Latin America. It would also cause a flashpoint with the international cartels, guerrillas, paramilitaries, and other crime groups that use cocaine trafficking to fund their operations. Some insiders expect them to use violence to try and cling to their share of the market, others say they could be rendered toothless and collapse all together.

'All the Violence Would Disappear'


If passed the bill would immediately decriminalize the growing of coca leaves, which are the main ingredient in cocaine. Colombia is currently home to approximately 495,000 acres of coca crop, which constitutes the primary source of income for hundreds of thousands of rural families.

The leaves have been used for centuries as traditional medicine by indigenous peoples. In its natural state, coca can act as a topical anaesthetic or mild coffee-like stimulant when chewed or taken as a tea.
MEXICO CITY (AP) — Mexico's President Andrés Manuel López Obrador has tossed another hot potato to U.S. President-elect Joe Biden with a proposal that would restrict U.S. agents in Mexico and remove their diplomatic immunity. "The proposal is that foreign agents will not have any immunity," according to a summary of the president's proposal to the Mexican Senate published Friday. In most countries, the chief DEA agent in the country often has full diplomatic immunity and other agents have some form of limited or technical immunity.

The proposal submitted quietly this week by López Obrador would require Drug Enforcement Administration agents to hand over all information they collect to the Mexican government, and require any Mexican officials they contact to submit a full report to Mexico's Foreign Relations Department.

Mike Vigil, the DEA's former chief of international operations, said of the handover of all information, "That is not going to happen."

"Sadly, there is endemic corruption within the (Mexican) government. It's going to be leaked, it's going to compromise agents, it's going to compromise informants," Vigil said.
[ Exemplary venality in this story]

But according to the order, released Saturday by the State Court Administrative Office, the case relates to a challenge brought by a voter concerned about a close outcome on a village marijuana proposal. The order says voter William Bailey alleges that ballots were damaged during a recounting of the county's ballots conducted Nov. 6, and the result was that a marijuana proposal in the Village of Central Lake shifted from a tie vote to passing by one vote.
The Marijuana Opportunity Reinvestment and Expungement Act, or MORE Act, would remove pot from the federal list of controlled substances, expunge low-level marijuana arrests, and set up a 5% sales tax to reinvest in communities disproportionately affected by drug enforcement, among other steps.

"The failed war on drugs first began almost 50 years ago, when Richard Nixon declared drug abuse public enemy number one," said Rep. Hakeem Jeffries (D-N.Y.), noting that since then prison populations soared from about 200,000 to around 2.3 million now, and minorities account for up to 80% of pot arrests.

"We have ruined lives, families and communities. It is a stain on our democracy," Jeffries said. "Marijuana use is either socially acceptable behavior or its criminal conduct, but it can't be socially acceptable behavior in some neighborhoods and criminal conduct in other neighborhoods, when the dividing line is race."

"We're not rushing to legalize marijuana -- the American people have already done that," said Rep. Earl Blumenauer (D-Ore.]. "We're here because Congress has failed to deal with a disastrous war on drugs, and do its part for the over 50 million regular marijuana users in every one of your districts."

The bill passed with a simple majority, 228 to 164, with just 6 Democrats opposing it, and 5 votes approving on the GOP side, as well as Michigan independent Rep. Justin Amash.
State law treats tobacco smokers and cannabis smokers differently and without the exemption there would be no legal place for people to smoke cannabis.
Oklahoma entered the world of legal cannabis late, but its hands-off approach launched a boom and a new nickname:

Oklahoma is now the biggest medical marijuana market in the country on a per capita basis. More than 360,000 Oklahomans—nearly 10 percent of the state's population—have acquired medical marijuana cards over the last two years.
The addition of psilocybin mushrooms to a bill decriminalizing marijuana possession threw a monkey wrench into New Jersey's legalization effort.

The ballot question drew overwhelming support on Election Day, in spite of a muted pandemic-era campaign that had minimal financial backing from the national cannabis industry.

But creating a legislative pathway to reach proponents' goals — establishing New Jersey as the dominant East Coast marijuana market, right next to New York, while ending the disproportionate rates of arrest in minority communities — is proving to be far more complicated.
Thompson, of Flint, is serving 42 to 60 years for gun charges that stemmed from an investigation into the sale of marijuana. He was caught selling three pounds of marijuana to a confidential informant in Genesee County in 1994.

Thompson had no guns on him during the marijuana deal for which he was arrested in 1994. Police searched his home and found 13 firearms, which he wasn't legally allowed to own because of his prior felony convictions. Many of the firearms were antiques and were stored in a locked gun safe, according to Nessel's letter.

Thompson said Tuesday that he accumulated the firearms over several years, put them in a box and forgot about them.
11/13/2020 Advisory Bulletin, Michigan Marijuana Regulatory Agency
The intent of this bulletin is to provide information regarding the application process for a state
license under the Michigan Regulation and Taxation of Marihuana Act (MRTMA). On March 1,
2021, the eligibility restriction that requires an applicant to hold an active state operating license
under the Medical Marihuana Facilities Licensing Act (MMFLA) to be eligible for numerous
MRTMA state licenses will be removed. Further information explaining the reasons for removing
this eligibility requirement can be found in the MRA Advisory Bulletin dated October 6, 2020,
located here.
There were 38 statewide citizen initiatives being decided across the country on Tuesday, about half the level of the last presidential election.
A sharp decline in visitors, as people have been locked down at home around the country, has hit Montana's outdoor tourist economy hard; marijuana legalization could contribute 4,000 or 5,000 new jobs, according to an analysis by the University of Montana. "That's huge in Montana — my goodness gracious, we're like 44th in family income," said Dave Lewis, a Republican who served in the Montana Legislature and as state budget director under three governors over a 42-year public career.

In New Jersey, which is bracing for an 18 percent decline in tax revenues next year, the drug debate is framed around the police and police budgets. Gov. Phil Murphy, a Democrat, is backing a recreational marijuana measure on the ballot, telling voters that saying yes to legalization would save tens of millions of dollars and allow police officers to focus on more serious public safety threats.

In South Dakota, where voters will decide on medical marijuana and recreational sales in two separate ballot measures, a key pitch is a plan to allocate half of the revenues from recreational marijuana taxes to public schools.

In Nebraska, where a medical marijuana measure qualified for the ballot, an antidrug group sued and the State Supreme Court last month struck it from the ballot. In South Dakota, opposition has been led by the state's Chamber of Commerce, which argues that highway and worker safety will suffer.
As of March 1, certain newly licensed recreational marijuana businesses -- retailers, processors, transporters, safety labs, class B and C growers -- will no longer be required to first hold a medical marijuana business license, the state Marijuana Regulatory Agency announced Tuesday, Oct. 6.
As municipalities throughout the state consider ordinances to allow marijuana establishments, the current eligibility restriction acts as a barrier to approaching local authorization in a way that is equitable. Greater municipal participation is a critical element in reducing the impact of the illicit market.
The use of marijuana for approved medical conditions is legal in 33 states, including New Jersey.

In 2012, Colorado and Washington became the first states to make it legal to smoke marijuana recreationally, without a medical justification. Nine additional states and Washington, D.C., have since legalized adult use of marijuana, and New Jersey is one of four states where voters will be asked in November if they support legalizing recreational use of the drug. Arizona, Montana and South Dakota have similar ballot initiatives.

If voters approve all four, one in three Americans will live in a state or city where recreational use of marijuana is legal, even before federal legislation advances.

"We've seen this complete evolution in thinking," said Steven Hawkins, executive director of the Marijuana Policy Project, a nonprofit that supports legalization. "New Jersey is one of the bluest states in the nation and South Dakota is one of the reddest — and they both have ballot initiatives in November."
Only 6.5% of people who qualify for expungement in Michigan have their records cleared within five years of becoming eligible, according to a study out of the University of Michigan Law School. The study found that people who get their records expunged see higher earnings and low recidivism rates.
This article comprises a fuck-ton of data-graphics by MLive's Scott Levin. Check it out.
Pandemic anxiety and mounting concerns about vaping have helped shift sales of cannabis products. "Edibles every year have been taking up a bigger slice of the pie," said Alex Levine, an owner and joint C.E.O. of Green Dragon, a dispensary that operates 15 locations in Colorado. "Right before corona hit, edibles were basically at 20 percent of our sales. That was a huge increase over the past couple of years."

"I think cannabis in general is a pretty recession-proof good," Mr. Ning said. "Much like alcohol," whose sales also skyrocketed as people prepared to be holed up at home indefinitely.

In the close quarters of quarantine, being stuck with roommates or family for an extended period of time, consumers may not want to smoke or vape. "When people are working at home or they're around children or family, edibles are just more discreet," Mr. Beals said.
"We've had to hire staff during this time," said Brett Stephens, general manager at Freddie's, a retail store in Clio. "We've grown. We've seen retail sales go up by 100%."
Over the past week, more than a dozen states have agreed that while "nonessential" stores had to close, pot shops and medical marijuana dispensaries could remain open — official recognition that for some Americans, cannabis is as necessary as milk and bread.

Women and young people — Generation Z — accounted for much of the sales growth, according to Headset.
It is estimated that the level of retail sales once it becomes widely available is approximately $3 billion with a total economic impact in excess of $7.8 billion. Employment in businesses along the marijuana supply chain is estimated to be 13,500 with a total economic impact on employment in the state of 23,700. Total tax revenue raised is $495.7 million of which $298.6 million is excise taxes and $197.1 million are in the form of sales taxes.
Donors Interested In Medical Marijuana Backed Key Michigan Lawmakers Working On Policy Changes. But Those Donors Disagree On Whether The State's New System Picks Winners And Losers.

Those contributions are small compared to others given by individuals currently in the medical marijuana business. One contributor, Nathan Podrid, who has sought to open at least one medical marijuana dispensary in Michigan, gave Jones' PAC $4,000 on July 30, 2015, according to campaign finance

records.

Owned by one of America's richest families, Millbrook hosted Timothy Leary, Allen Ginsberg, Charles Mingus and more.

Billy, as he was called, was heir to one of the largest fortunes in the country. And he had a trust fund that lined his pockets with $15,000 a week to do what he pleased. Sometimes he played the stocks. Sometimes he dropped acid. In January of 1963, Billy thought it'd be a smart investment to spend half a million dollars on 2,500 acres of land two hours north of New York City on the outskirts of the sleepy village of Millbrook.

In September of 1963, Alpert, Leary, and Ralph Metzner (their colleague at Harvard) moved in, along with thirty or so of their followers. In a Poughkeepsie Journal article headlined "Scientists Plan No Experiments at Millbrook," Alpert assured the reporter that their drug days were over. The plan was to "write extensively" and "live quietly." ...

As Martin A. Lee and Bruce Shlain put it in Acid Dreams (1985): "People stayed up all night tripping and prancing around the estate. A stash of liquid acid had spilled in Richard Alpert's suitcase, soaking his underwear, when the psychedelic fraternity was traveling back from Zihuatanejo, so anyone could get high merely by sucking on his briefs. Everyone was always either just coming down from a trip or planning to take one. Some dropped acid for ten days straight, increasing the dosage and mixing in other drugs. Even the children and dogs were said to have taken LSD."

Residents of Dutchess County grew suspicious.... At around 2am on Sunday, April 17, 1966, the newly-appointed assistant district attorney G. Gordon Liddy — yes, that G. Gordon Liddy — led a nighttime raid on the Millbrook estate, search warrant in hand, a climax to months of surveillance.

Searching the premises, officers found a small amount of cannabis, but no acid or other drugs. They confiscated Leary's son's high school chemistry set. Women were strip searched and asked whether they "had intercourse" on the premises. Leary and two others were bundled off to jail. ...

Hitchcock introduced Nicholas Sand, a Millbrook regular and aspiring underground chemist, to Tim Scully, a whizz kid chemist from Berkeley newly-arrived on the estate. With Hitchcock bankrolling the operation, the two chemists moved to California, set up a lab, and synthesized 3.6 million hits of Orange Sunshine — 250 micrograms of pure LSD bliss that hit the San Francisco streets right on time for the Summer of Love.

Hitchcock evicted everyone and followed his Orange Sunshine to San Francisco.
-- Gus Burns is the marijuana beat reporter for MLive. Contact him with questions, tips or comments at This email address is being protected from spambots. You need JavaScript enabled to view it." style="margin: 0px; padding: 0px 0px 2px; border-width: 0px 0px 1px; font-size: 18px; line-height: inherit; font-family: 'Benton Sans', Arial, sans-serif; vertical-align: baseline; color: #1565c0; cursor: pointer; letter-spacing: 0.234px;">This email address is being protected from spambots. You need JavaScript enabled to view it. or follow him on Twitter, @GusBurns.
It ends abruptly on July 12, 2020. I was exhausted.